Lauren Sandland and Luke Dillon storm to take Champion titles at the 2023 Caravan and Motorhome Club English National Surfing Championships.
Two full days of phenomenal surfing action unfolded at Fistral Beach over the weekend; this was the 2023 Caravan and Motorhome Club English National Surfing Championships – women's and men's shortboard open titles.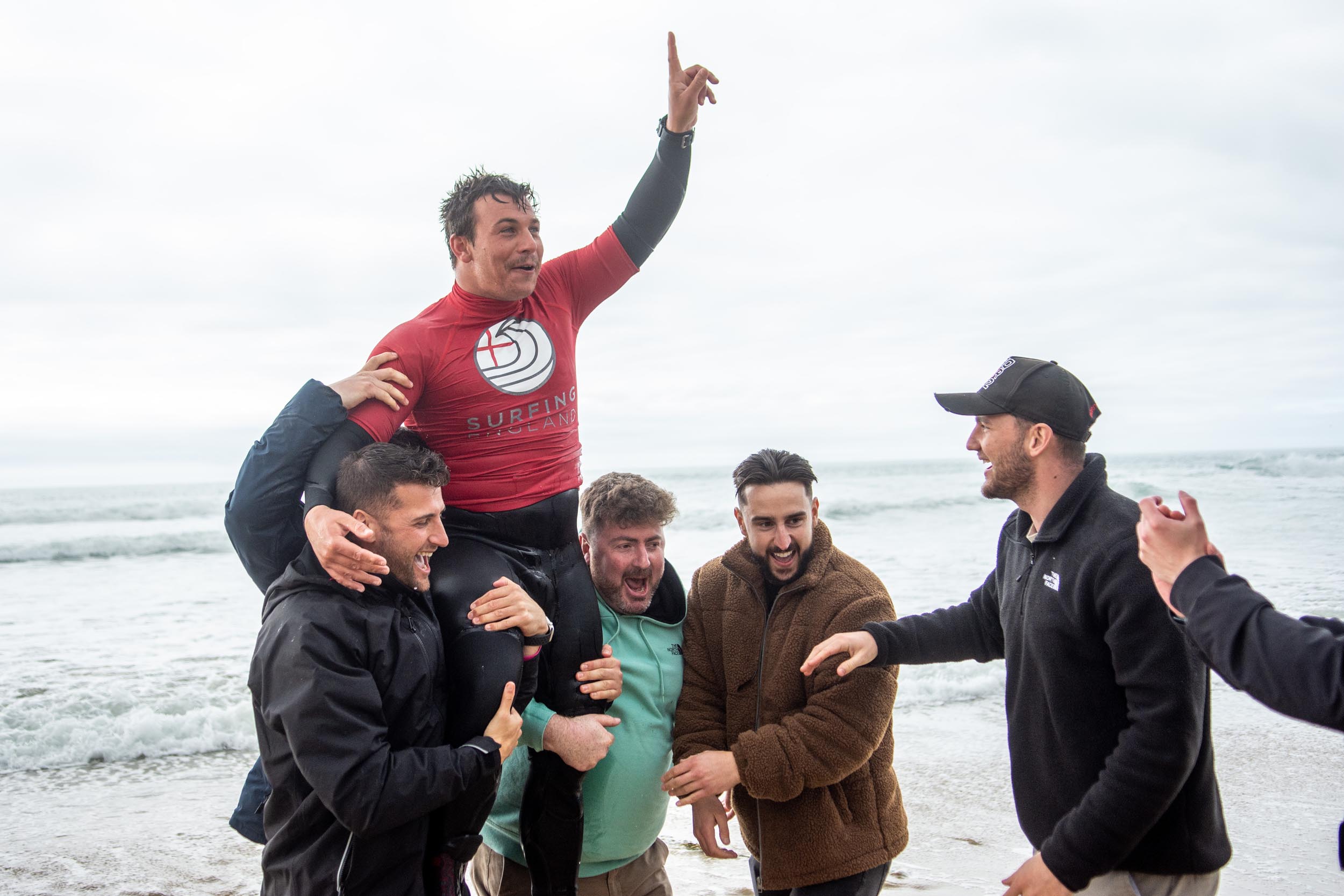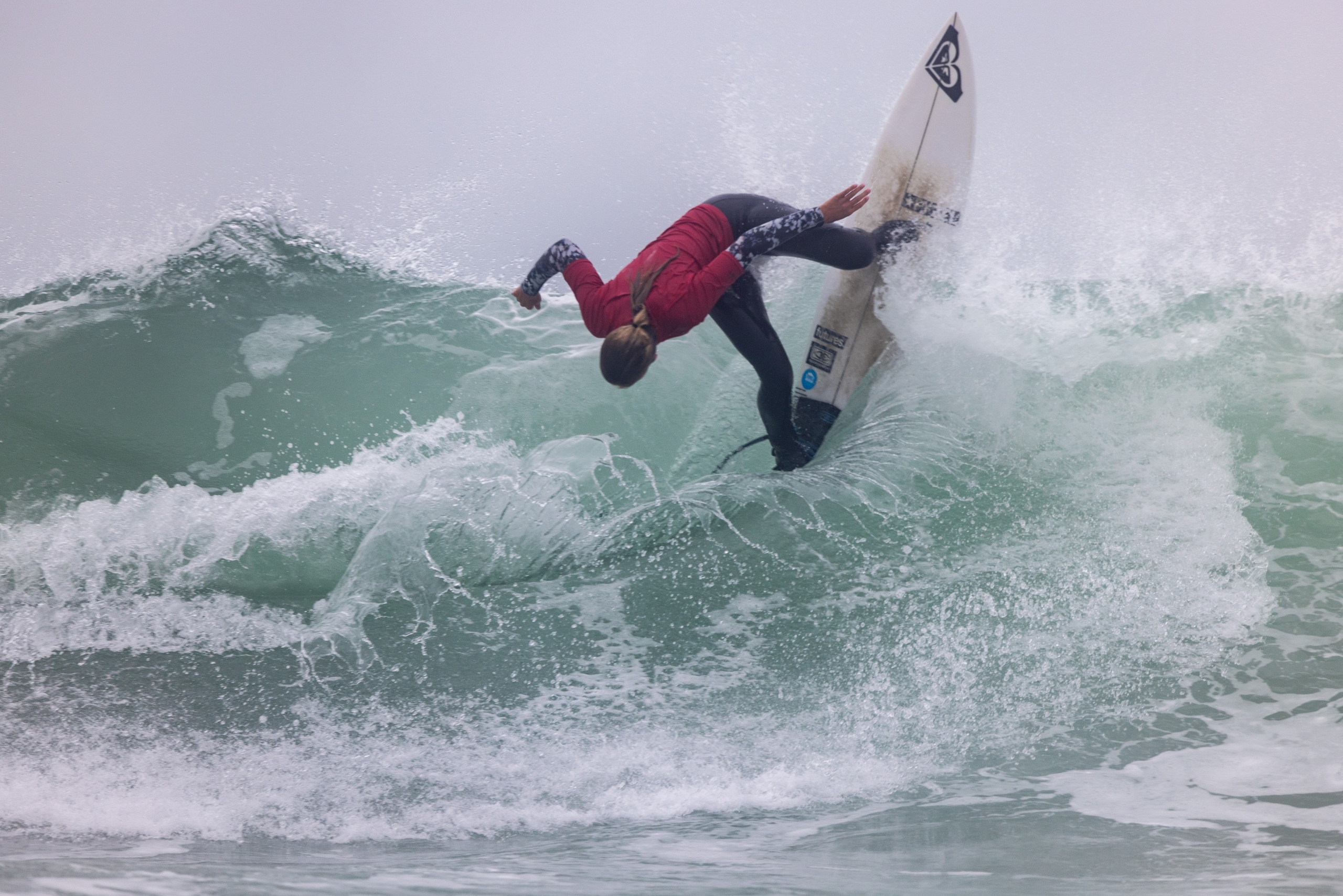 The event kicked off on Saturday in huge swell, really offering up a platform for English surfers to showcase their talent, and Sunday luscious clean 3-4ft waves rolling through as we charged through the rounds to find our 2023 Champions.
In the run up to the contest, the stoke and excitement was notable, competitors frothing to get on their boards in some big waves. Event organisers closely monitored the charts and called it ON at Fistral Beach, where we felt the best platform for the surf was on offer, one of the best beach breaks to handle the 6-10ft swell.
For 2023, our ambition was to drive forward the standard of our English Nationals and launch priority rules at our event. This was hugely successful, thanks to funding from UK Sport, and Kerry Powell, who delivered a specialist training course Friday evening, and showed everyone the ropes throughout the contest.
Joining us for the weekend and providing a warm welcome to all surfers were the Caravan and Motorhome Club, our headline partners of the event, who enable us to run this event. Saturday morning saw a busy check in, the Club gifting all surfers a custom tote bag with event artwork. The competitive atmosphere was notable, surfers full of excitement and also some nerves at the size of the surf entering the bay.
First up, round 1 of the men's open headed in. We had 12 heats to crack through, a really solid number of competitors making it fierce competition. Arran Strong opened heat 1, with intention to set the bar, racking up two of the best wave scores throughout the entire event, both on waves that were absolute bombs. Heat 2 took to the water with just crowned Rip Curl Grom Search World Champion Lukas Skinner, who quickly showed why he deserved that title.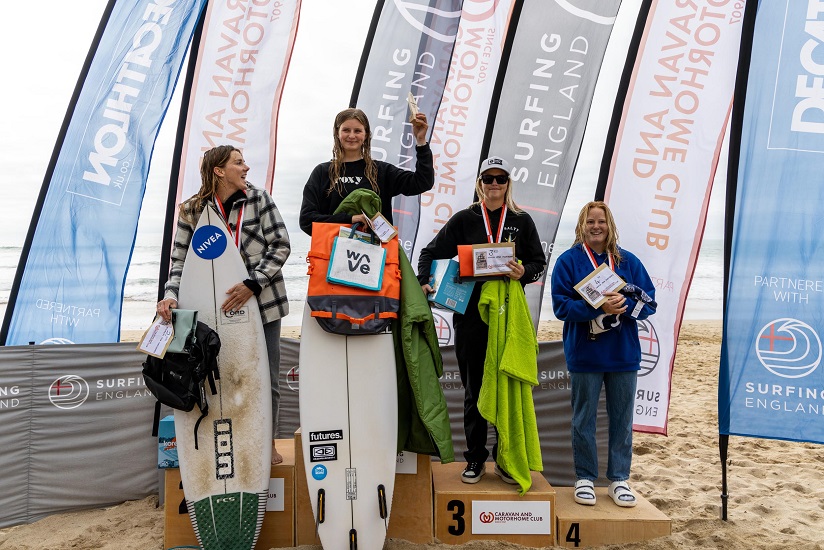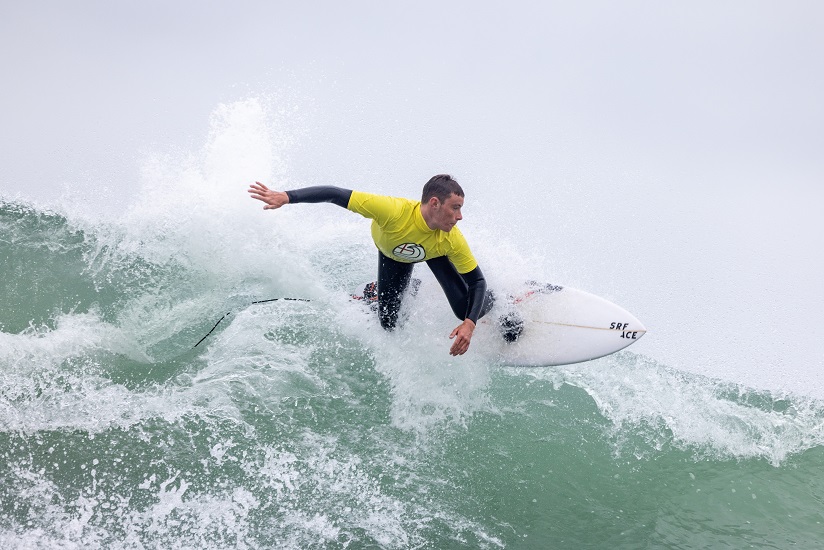 After seeing the men surf, the women entered the water with fierce tenacity to show their skills. What unfolded was 8 heats of high calibre surfing, impressing the judges. Lily Pierce was a highlight, showing how comfortable she is in large surf.
Charging through the heats on Saturday, all Team England squad set to put on a show and demonstrate why they have that squad status. A good show of our juniors too, and what an opportunity to surf against England's best.
Sunday would test the endurance of the competitors – who had multiple rounds to make it through to reach the final 4. Clean swell rolled into the bay, and everyone was hyped to get amongst it in some fun waves. A huge thanks to ERA lifeguards who were kept busy keeping the contest area clear from any free surfers.
Heats were intensely close, challenging the judges' skills, and surfers had to really start to use the priority rules to their advantage to select the best waves in the 20-minute window. The whole beach was in anticipation about who was going to progress beyond quarterfinals.
Head Judge Ester Spears stated that "on reflection I think that the standard of surfing was the best I've ever seen at an 'English' in both the Mens and Women's divisions. Probably WQS standard from the semis onward." This is a huge compliment to English surfing from a man with decades of experience of judging, both Nationally and Internationally.
Coming down to crunch, tense finals took place mid-afternoon at high tide Fistral, the beach packed to watch, and Martin Reay, our commentator updating the crowd as the action unfolded.
Lily Pierce and Charlotte Mulley had racked up impressive scores throughout the event, but couldn't quite find the waves in the final, Lily placing 3rd and Charlotte 4th. Lucy Campbell and Lauren Sandland, fresh from a recent QS together were close, but Lauren's attacking of the lip, and fierce turns really impressed and earnt her the prestige women's champion title. Lauren at just 17, claims her second English Champion title, having earnt her first at just 15! An impressive athlete with an incredible future ahead of her.
In the Men's, Luke Dillon was making a clear campaign to get his 4th English Champ title in a row but had recent Rip Curl Grom Search World Champ Lukas Skinner nipping at his heels. Luke did get that title when it came to it and the final horn went, Lukas in 2nd. Both surfers have been working on their aerials, lighting up the crowd. Separated by less than a point, Arran Strong placed 3rd, and Seth Morris in 4th.
For English surfing, this event was a piece of history as Surfing England launched priority rules. Kerry Powell, who is delivering a priority program across all the UK nations, said "I've been waiting for this opportunity to see priority rules at an English and I was so honoured to lead the launch. Some testing moments but we made it happen, the surfers and judges all stoked as we drive forward the standard of our English events."
Pauly Jeffrey, Contest Director echo'd Kerry's words; "The introduction of priority judging was a long time coming for English surfing. To organise and logistically set up is both time consuming and of course carries increased costs.
To deliver this effectively a lot of work went on behind the scenes by some of the best in the business. The end result was a near perfect delivery of the priority judging. Excellent feedback from the surfers confirmed this.
Surfing England would like to say a big thankyou to all involved. Extending a huge thank you to all surfers, supporters, media team, judges and event team for being a part of this epic weekend. It was a phenomenal weekend for English surfing and everyone is excited for the next one! This English nationals was in the great words of Tina Turner 'simply the best'".
Surfing England's next contest will see a continuation of the English National Surfing Championships in age-based shortboard categories (junior and senior), and the trial of bodyboard divisions. This will take place 12th – 14th May at Watergate Bay. Find out more and get your entry in here.
Thanks go to the fantastic headline partners Caravan and Motorhome Club and to the amazing partners korev Lager, The Wave, dryrobe, Decathlon, Clarke Willmott, Vospers.
Fistral Beach was delighted to host the event, ERA Adventures provided the Lifeguard Cover.
RESULTS:
Men's Open
1- Luke Dillon 2- Lukas Skinner 3- Arran Strong 4- Seth Morris
Women's Open
1- Lauren Sandland 2- Lucy Campbell 3- Lily Pierce 4- Charlotte Mulley