When visiting Cornwall, surfing in Newquay should absolutely feature in your visit.
Surfing in Newquay has become so popular for very good reasons. Not only is Newquay surrounded by an unbelievable choice of beaches within a small distance, its beaches are known to enjoy extremely consistent surf and good waves.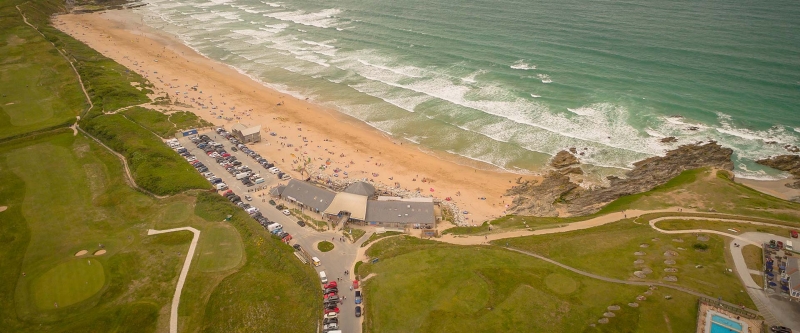 The undisputable home of British surfing is Fistral Beach. The facilities and popularity of Fistral Beach as the centre of British surfing have grown over the years.  Fistral has become so established due to both its geographical position, and the shape of the beach. These factors combined have made Fistral the home of British surfing.
Fistral Beach is famous for its waves which get surfers running down the beach and into the water. These powerful and hollow low tides waves at North Fistral attract surfers eager to chase barrels. When surfing, the tide influences the waves, and at some locations a beaches accessibility can be affected. Fistral Beach can be surfed throughout the tides. Often high tide can provide a contrasting wave to that at low tide, and become a longboarder's dream with slower waves peeling in.
Competitive Surfing
Newquay has been and continues to be the home to many of Britain's most prolific professional surfers. With ample waves throughout the year, and high-profile surfing contests Fistral Beach has been host to countless surfer's ambitions.
The most famous of the surfing competitions held in Newquay is Boardmaster's. Established in 1981 Boardmaster's sees top international surfers battling it out in shortboarding and  longboarding divisions. The coveted title of winning Boardmaster's see's surfers travelling from around the globe. Surfers from the UK complete alongside competitors from countries such as Hawaii, South Africa, France, Portugal and Spain.
Developing Surfing
Supporting the development of professional surfers, the UK Pro Surf Tour, has been creating a platform to encourage and aid the advancement of the UK's top surfers. The UK Pro Surf Tour has its headquarters at Fistral Beach and hosts multiple events throughout Newquay.
Fistral Beach supports surfing from its grass roots to elite level. Since 2017 it has provided a prize of £5,000 to the winner of the Open on the UK Pro Surf Tour. With the aim to help encourage UK surfing to be as competitive as possible.
Getting Involved
Everyone visiting Cornwall should and can experience surfing in Newquay. Fistral Beach Surf Hire has equipment for every ability and age, and Fistral Beach Surf School can see you taught by the professional surfers themselves.
By surfing in Newquay and giving it a go, everyone can experience why it is the town at the heart of British surfing.