Cover Image: Tim Nunn Photography 
Tom Butler has long been a known name and face in the UK competitive surf scene due to his consistent ability in the water and his tenacious drive to push his surfing to next level. More recently Tom has been pushing himself in big wave surfing and has been making a real name for himself within the big wave surfing competitive community, his main goal being to earn a spot on the WSL big wave tour. Although a recent injury at Nazare knocked some wind out the ambitious surfer he is still determined to achieve his goal.
Recently Tom has started to release his new web-series Think Bigger which details his recovery and comeback, the look into his life is a humble and admirable journey that boasts his surfing ability, his kind nature as well as his drive to push his surfing. We caught up with the Fistral Beach ambassador to have a quick chat about his recovery, his latest projects and what we can expect from him in the future.
---
Kieran: Thank you for taking the time to answer our questions, how have you been and what have you been up to?
Tom: Really good thank you, keeping nice and busy as most businesses / individuals are right now. Being slap bang in the middle of summer means my day job, working with the Wave Project is in full swing. I'm also in the middle of producing my web series. Episode 4 is currently being filmed. I'm also training everyday to make sure my fitness and head space is ready to go when the first autumn swells roll through. And of course,Boardmasters is a week or two away so i'm jumping in the waves and practising as much as possible.
Kieran: Your Think Bigger web series is now being released into the wide world, how has the reaction been so far?
Tom: I've had some great feedback. Currently I've only released the episodes with MSW, Carve and Wavelength. I intend to hit the distribution harder over the next weeks with an aim to raise the view count.
Kieran: What did you hope to achieve from the web series and why did you decide to make it?
Tom: The aim for the series is, 1. show my story bouncing back from the World tour wipeout aiming to return back to Nazare at the end of the series. Obviously the wipeout, hospitalisation and recovery took a lot out of me. So it's not as if I can click my fingers and immediately be ready to surf Nazare after an experience like I had. So we are documenting the come back process and everything else in between. 2.Collect footage and a story to take to mainstream platforms in the months ahead. Aiming to boost my appeal to more lucrative sponsorship.
Kieran: It's a pretty personal look at your life, were you nervous about putting yourself out there so much?
Tom: Nope, everyone does this on the daily through social media. Personally when I watch sports docco's the more behind the scenes daily routines etc included the better. Some of the UFC fighters make great productions looking into there head space pre fights. The Notorious Conor Mcgregor probably has the funniest most interesting productions going.
Kieran: You speak in detail of your recent Wipeout at Nazare (which looked so crazy by the way!) how do you pick yourself back up after such a horrifying experience?
Tom: Work extremely hard, live life passionately and determined and do a hell of a lot of visualisation. There's not a day gone by since I was about 19 that I haven't imagined myself dropping into big waves. Two hours after my wipeout, sat on the hospital bed, physiologically I was ready to go again, the wipeout didn't phase me. It just humbled me and gave me a kick up the ass to keep going and get everything set out better, equipment, logistics etc. Ultimately, when you play with fire eventually you'll get burnt. It just wasn't my day. I've had plenty of days and wipeouts that have gone my way, this one just hit me differently.
Kieran: What have been the key things that has kept you going and why?
Tom: Just wanting to improve everything. Ride bigger waves have funner times. Meet more people. It's been an incredible journey so far. Being lucky enough to surf days with people that I've watched in movies growing up has been amazing and surreal at times.
Kieran: Has your surfing changed since the wipeout? What will you be doing differently?
Tom: When I wiped out I was riding a 10'0 ft board. The wind stopped my descent down the wave a bit so perhaps if I was riding a longer board I would have picked my paddle pace up therefore allowing me into the wave earlier. This might have helped the cause on the drop in. Ultimately though I should have never of turned and burned that wave. It was a closeout! As I say in episode 1, it was a turn and burn style wave. I sent it without a care, I was way to hyped up for the world tour occasion!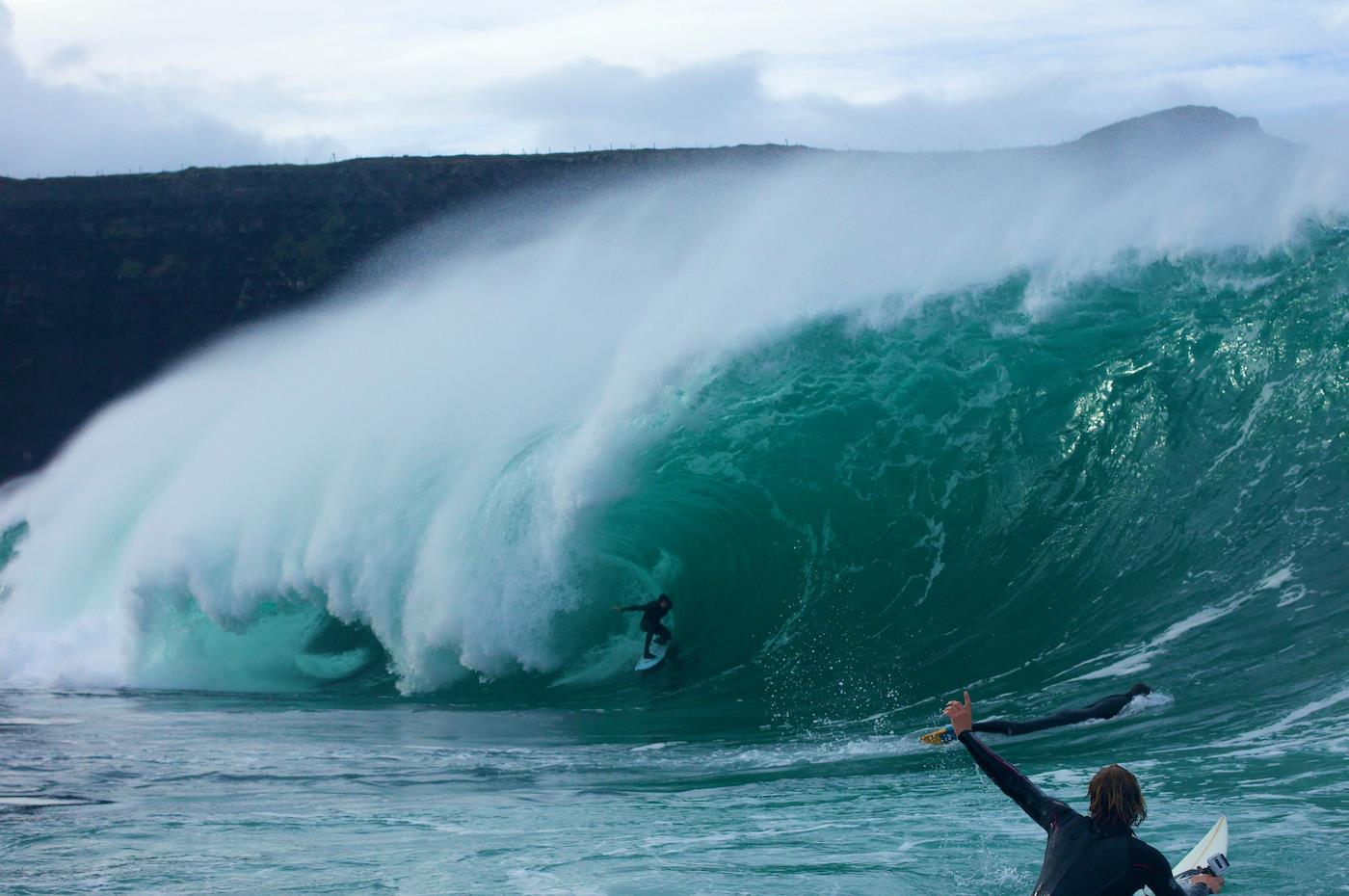 Kieran: You have also started working for the Wave Project, what inspired you to make this decision and how has it been so far?
Tom: After my Nazare wipeout I knew I wanted to give back to my community. The wipeout really put a full stop on a huge chapter of my life, a great full stop. After my hospital stint I came out and wanted to gain some experience working with vulnerable children locally so when the job position became available I was immediately interested.Using surf therapy to enhance our clients lives, we run funded 6-week surfing programmes that the children are referred onto from health care professionals.  I've learnt so much and worked with such a diverse range of clients already. The job has been immensely rewarding and challenging. Each week changes and so do the clients needs and moods.
Kieran: Lastly, what can we expect from you in the future?
Tom: More episodes of Think Bigger, hopefully you find them an inspiring/interesting watch. A few more nail biting rides, I intend to get my teeth stuck back into some chunky surf by September/October so can't wait to share these later episodes once the autumn swells roll through!
---